Richmond and Bushy parks are wonderful places to visit and much loved by the many people that use them. In these uncertain times, it is understandable that the public wants to visit for some much-needed exercise and relaxation. 
However, the volume of people use the parks and how some people are behaving is causing serious issues and directly impacting the welfare of the parks' deer.

Although closed to traffic and cyclists, the number of visitors spread out over through the parks, have left few refuges for the deer. Last weekend park staff picked up in excess of five tons of picnic litter and waste. There have also been multiple deer worrying incidents by dogs, some fatal for the deer. 
Currently, much of England has a high to very high risk of wildfires according to The Met Office's Fire Severity Index (FSI). Although some regions may have experienced rain over the bank holiday weekend the risk still remains high.
Low levels of rainfall have left the countryside unusually dry and recent weeks have already seen some devastating fires which have killed wildlife and destroyed huge areas of habitat.  In many cases, barbecues and open fires have been implicated in starting them.  Even a carelessly discarded cigarette can start a blaze and any fire lit on dry ground may risk igniting material below the surface.  This can continue to smoulder and flare up later even if the fire appears to be out.

The British Deer Society strongly urges that fires of any kind (including barbecues) should not be lit anywhere that has restrictions in place. If you are not sure about possible restrictions then please don't take the risk. We would also like to remind everyone that 'wild' or any other kind of overnight camping is still currently not allowed anywhere in the UK.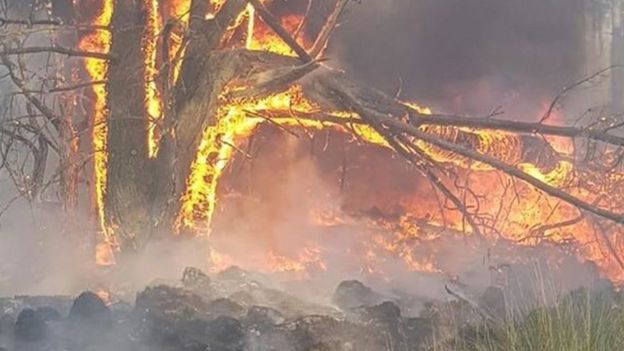 Key deer welfare areas for May and June
Deer on the Roads 
During the lockdown, our deer ventured out onto the road more than ever and now that the traffic is starting to return we are hearing of more and more deer-vehicle collisions.

In addition, this time of year often sees a peak in DVCs as deer are on the move and last year's young being pushed out to find new territories.

Please watch out for deer on our roads day and night!

Advice for drivers

Young Deer
As highlighted above this is the birthing season for many of our deer species, so pregnant females need to be left in peace. Young deer will often be left somewhere safe while mum is feeding as they can't always keep up. These are not abandoned and should be left alone as mum will be close by.

More so than ever it is important to keep dogs under a watchful eye and control.

Please help spread the word and keep wild deer and the public safe!

More information on abandoned young
COVID-19:  BDS Advice to Deer Stalkers - issued 11 May 2020
Further to the Prime Minister's statement on Sunday 10 May 2020, and the more detailed COVID-19 Recovery Strategy published today, the British Deer Society interprets the current situation as follows:
With effect from Wednesday 13 May 2020 deer stalking and associated management activities may resume in England only under the relaxation of guidelines affecting exercising outdoors.
There are no restrictions on how many times, or for how long, you may exercise each day.
In line with social distancing guidelines, you should remain at least 2 metres separate from anyone from outside your household and be aware of not touching shared surfaces.
Effective hand hygiene is essential.
You should not exercise with more than one other person from outside your household.
It is acceptable to drive to outdoor open spaces irrespective of distance.
Appropriate planning for the extraction, transport and subsequent disposal of carcases should be conducted prior to stalking to ensure that all remains within government guidelines.
Different rules exist in Wales, Scotland and Northern Ireland where the devolved administrations still stipulate separate guidance and regulations.  All travel or other movement must respect this.
Stalkers are strongly advised to familiarise themselves with the Government's COVID-19 Recovery Strategy, with special attention given to the rules for public spaces (page 27). It can be viewed in full here: 
The above advice is intended for unpaid, recreational stalkers.  Where stalking is conducted on a professional basis, employers remain responsible for ensuring appropriate safe conditions for employees and follow existing government advice and the 'COVID-19 Secure' guidelines which will be published later this week.
The British Deer Society will continue to monitor the situation and issue further advice when necessary.
View News Archive